Goal setting is a very important part of beginning any sort of endeavour and provides a clear path of progression and improvement.
There are two types of goals young athletes can set. The first is an outcome-orientated goal. This focusses on the end result of your work not the steps that it took to get there. Some examples of this include winning a race, making a representative team or breaking a world record.
The second is a process-orientated goal. This focusses on the steps it took to get to the end goal and are a lot more detailed than an outcome goal. Examples of this include beating your own PB, increasing weight/reps in strength training or pulling up less sore from trainings/games.
If outcome goals are the only thing you are focussing on, it can be very easy to feel like you're falling behind. If your goal is to make it to the Commonwealth Games, and that's all you are focussing on, then your times and performances will never match up to those expectations. The more you "fail" to reach your goal, the less likely you are to keep turning up to training and seeking improvement.
A combination of goth goals needs to be in place to best allow for your personal growth. A good way to set out your goals is to begin with the big outcome (eg: making Commonwealth Games) and then working in reverse to see what steps you need to take to get there.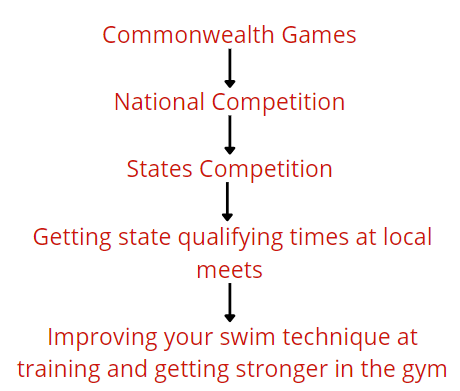 This clear breakdown of the steps to your goal will allow for small, incremental, and measurable progress that can be recorded and celebrated regularly.
Tracking these small progress goals are the key to staying consistent. Often the process goals are a bore and a lot more of a grind than focussing on the big prizes and accolades at the end of the journey. But it's this hard work completed day to day for months and years on end that will allow you to achieve the successes you are after.
If you fail to track these small goals and progressions weekly and daily, it will be a lot easier to fall off the wagon. If you do, however, track and celebrate these progressions, staying focussed will be a breeze. The feeling of achieving small goals regularly will build momentum and improve morale towards your training and competition performance.
Need help with goal setting and improving your performance? Contact us for more information about how we can help you.
Matt Hucul
Junior Strength Coach
Inner Athlete (AUS)
#youthathletes #youngathletes #teenathletes #athleteperformance #processgoals #goalsetting #outcomegoals #athleticimprovement