So you want to start running? That's great! Before you lace up your runners and head out for a run, check out these 4 useful tips.
1. Synchronise Your Breathing
Sync your breathing and steps to create a comfortable rhythm and flow to your running Start by keeping your running at a nice easy pace to allow yourself to grow and progress, rather than wheezing for air after the first few minutes. To help manage your pace, you can auto-regulate your effort by using your breathing. By breathing in for 3 steps and then back out for 3 steps you create a synergy with your cardiorespiratory system. When the breathing becomes labouring and you feel yourself needing to gaps for air, you know that you're pushing yourself too hard, and all you need to do is slow your running down until your breathing feels comfortable again.
2. Wear The Proper Shoes and Choose The Right Surface
You want to be out there running consistently and free of any pain. To ensure this occurs consider your footwear and running surfaces. Running on the pavement is convenient and available to everyone, however the constant pounding on your joints from the hard surface can leave you feeling sore. Running on grass at a local sports field will give your joints a break. Additionally, wearing some shoes with support for your ankles as well as cushioning to eliminate some of the pounding can leave you injury free and running longer.
3. Start With Intervals
As a new runner you shouldn't be so focused on trying to run the whole time. This can be discouraging when you aren't reaching the levels you were expecting. Instead, start with some run and walk intervals, there's no shame in stopping to walk and recover again. Over time you can build the fitness up and string along the intervals until you are running unbroken. You just have to make sure you aren't going too hard too early!
4. Recover
So you just finished your first run and you want to get right out there again> That's great! But maybe you should consider taking a day off, letting your muscles, bones and cardiovascular system have some time to recover. Doing this allows your body to adapt so you can progress and push a little harder the next run. By following this simple formula, you can expect steady progress over time and hopefully incorporate running into your weekly routines and remain injury free.
Below is an introductory running program. Save the page, take a screenshot, send it to a friend and let's get started!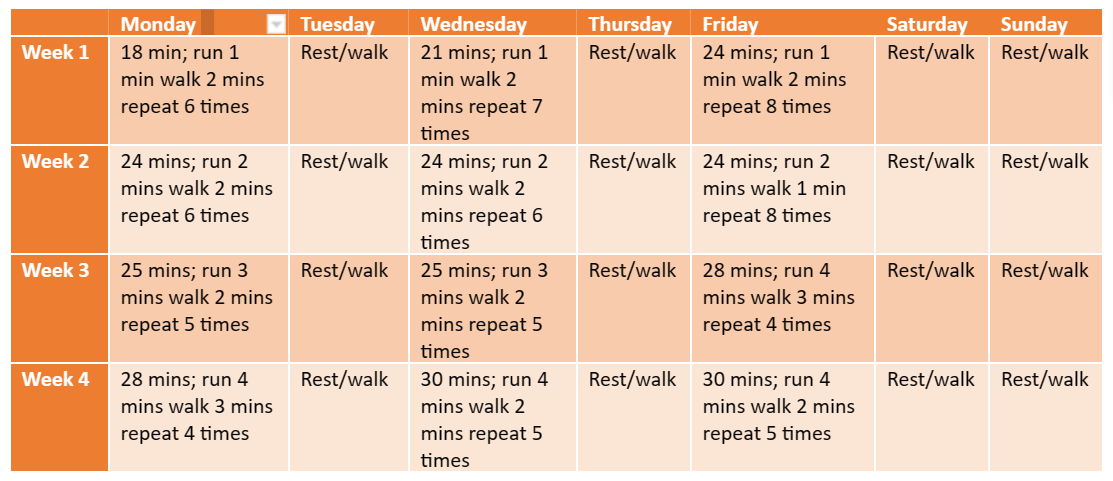 For more information on strength and conditioning for youth athletes and increasing your sports performance, check out our website and podcast, also available on Spotify and YouTube!
Matt Hucul
Strength and Conditioning Coach
Inner Athlete - Bayside's premium strength and conditioning coaching for youth athletes
#youthathletes #teenathltes #youngathletes #beginnersrunningguide #howtogetstartedrunning #beginnersrunningprogram