As we have touched on in the past about the importance of time management and using a calendar to track your school and training schedules. Tracking what you are eating each day is an objective tool that can be looked back on to assess why you have or haven't made any progress.
Tracking your food doesn't have to become a soul crushing and tedious task that gets in the way of enjoying your food. However, using it for a couple of weeks to give yourself an indication to the amount of calories, protein, fats and carbohydrates you are consuming each day can help highlight key areas that can be improved on.
If your goal is to lose weight, then you have to be consuming less calories than you are burning each day. A cheap and easy way to measure this progress is to track the number of calories you are eating each day along with measuring your weight each morning. Averaging your weight each week and comparing it week to week can indicated if weight loss is occurring, if the weight is staying the same this may mean you need to cut out some calories each day to encourage weight los. The opposite should be the case if you're a skinnier kid and need to put on some weight for your sport.
Tracking your food each day will also show you how much protein you're getting each day. Speaking to a lot of young athletes, they struggle to understand the importance of eating enough protein and can't recognise what are good protein sources. Ensuring you are getting around 1.5-2 times your body weight in protein (grams) is a good rule of thumb to support recovery from gym sessions, trainings, games as well as any growth spurts that may be occurring.
Gaining an understanding of how nutrition can affect your performance at an early age is an important lesson to learn that can give you a big advantage over your competition. As most of the week is spent at school and not at training with your coaches, nailing down your own routine is one of the most important factors that will back up and support all the effort you are putting into your training.
If you are feeling tired at the beginning of trainings and can't get through the whole school day without losing concentration, then looking at the amount, and where the calories are coming from may help explain this. Additionally, arriving to a training session or game full of energy and leading to a good performance is a feeling that you want to replicate, and so copying the food consumed on that day is a great step to achieving that.
Below is a table from Sports Dietitian Australia to help guide some of the better protein choices to include in each meal. Including the following portion sizes to each meal will go a long way to maintaining the daily recommended protein intake.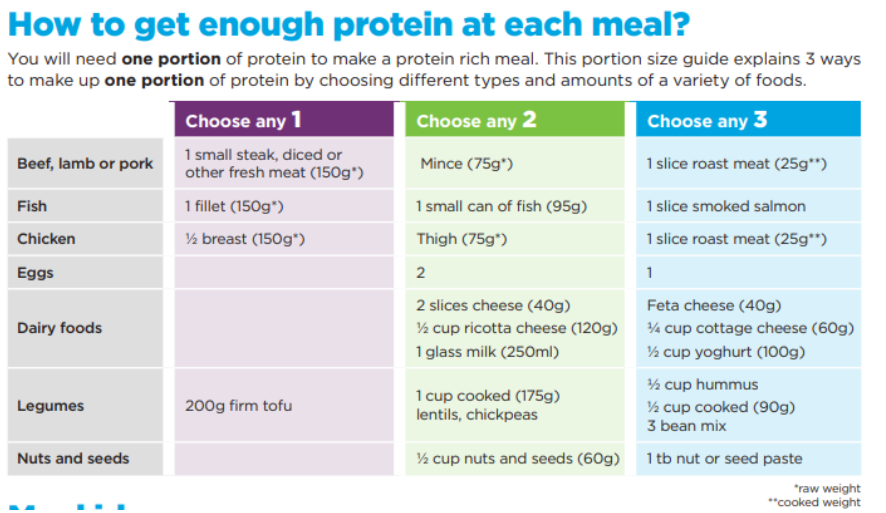 Try downloading a nutrition tracker app like MyFitnessPal, Calorie Counter or Easy Diet Diary and ask our coaches for help in how to set it up.
If you need help and guidance to improve your overall sports performance, get in touch with us.
Matt Hucul
Junior Strength Coach
Inner Athlete (AUS)
#youthathletes #youngathletes #teenathletes #nutrition #improvesportingperformance #trackyourfood